December Furniture Grads Recognized at AATC
Students completing Catawba Valley Community College's Alexander Furniture Academy were recently recognized at a ceremony held in their honor at CVCC's Alexander Applied Technologies Center in Taylorsville.
12/18/2018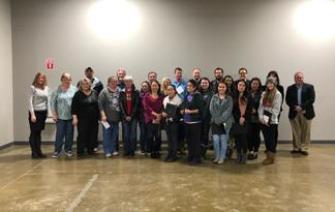 Graduates of the 24-week training program completed a learning track of Sewing Operator or Upholstery Craftsman. Graduates include Alexis Barnes, Sheila Conley, Aaron Elder, Lillian Fox, Elizabeth Godinez, Brian Hogan, Mai Lee, Soua Lee, Jessica Miles, Michael Starnes, Lisa Thao, Zoua Vang, Pao Vang, and Stacy Xiong.
The Alexander Furniture Academy is a public/private partnership between major Alexander County furniture manufacturers and the college to prepare students for skilled positions that are in high demand by some of the largest employers in our area.
Founding sponsors include Craftmaster Furniture, Kincaid Furniture, and Mitchell Gold + Bob Williams.
For more information about enrolling, contact Lori Price Director, CVCC Furniture Workforce Development, 828-327-7000, ext. 4284, lprice@cvcc.edu.
# # #