Accounting Students Tour Lexington Home Brands
Students in Managerial Accounting class at Catawba Valley Community College recently examined the manufacturing accounting principles of Lexington Home Brands in Hildebran, N.C., during a tour of the facility.
11/20/2017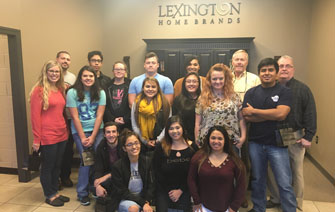 The students were guided by Human Resources Manager Bill McBrayer and they learned what costs go into making products, how costs are calculated, the flow of a manufacturing plant and how the product is converted from raw materials to finished goods through various departments.
Most students had never been to a manufacturing facility, according to Accounting Instructor Chelsea Ledford and Accounting Program Director Christy Lefevers. The experience gave them a better understanding of what they are learning in class.
# # #