First Sutter Street University Grads
The first graduates of Sutter Street University were recently recognized at a ceremony hosted at the Catawba Valley Furniture Academy. The students completed an eight-week training program in their choice of either Introduction to Upholstery or Introduction to Sewing at the Catawba Valley Furniture Academy.
02/12/2019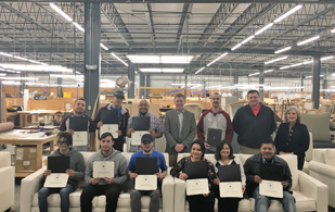 Sutter Street University, a program developed in partnership with CVCC, prepares associates for positions in upholstery and sewing at Sutter Street Manufacturing. Phase II of the training program is completed with on-the-job training at Sutter Street.
Aaron Bryant, Pablo Cardona, Ryan Cavender, Jose Ibarro, Nicholas Lee, Jamil Lizardi, Oscar Rodriquez and Giovanni Virgilio-Valdez completed the Introduction to Upholstery training.
Stephanie Sanchez Jantes and Luz Carmen Alvarez completed the Introduction to Sewing training.
Darryl Webster, Senior Vice President of Sutter Street's Claremont, N.C.-based operation, recognized the graduates for their commitment to completing the training.
"We are especially proud of your dedication to advancing your careers with Sutter Street as you learned and continued your full time job responsibilities with us," said Webster. "That is a commitment we want to foster and reward in our associates."
For more information about enrollment, please contact Sutter Street at 828-459-5661.
# # #