Minority Males On The Move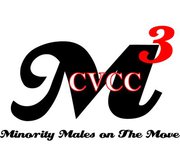 Mission Statement:
To enhance the educational experience of minority males
on the campuses of Catawba Valley Community College
through mentor ship, fellowship, and support; thereby
preparing and empowering minority males to become
positive contributors to our communities.
Vision Statement:
To increase the enrollment and graduation rates of minority males
at Catawba Valley Community College by 15%, annually for the
next five years.
12 REASONS TO ATTEND CVCC
Affordability
CVCC is a Great Place to Learn!!
Peer Mentoring
International Educational Opportunities
Multitude of Internet Classes, Certificate, Diploma
& Curriculum Classes
GED
21st Century Student Center
State of the Art Simulated Hospital
Multiple Campus Locations, Catawba & Alexander County
Basic Law Enforcement Training
Workforce Ready Programs
Great Athletic Programs (Basketball, Volleyball, Baseball).
For more information contact Steve Hunt @ shunt@cvcc.edu or 828-327-7000, ext. 4570