2019 Black History Celebration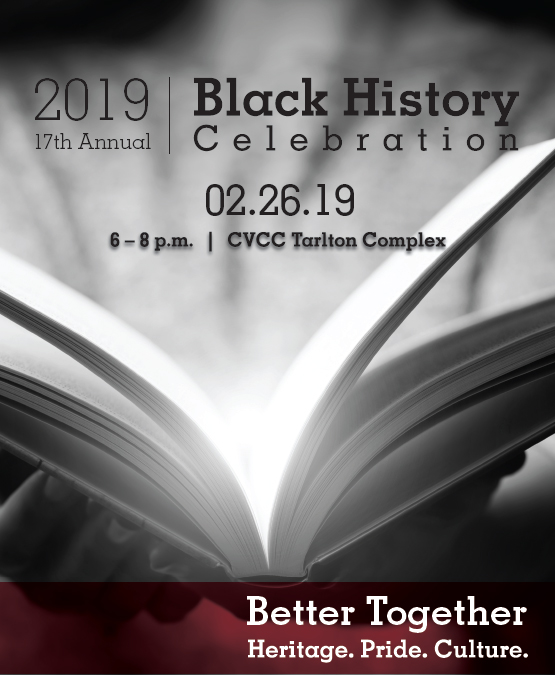 "2019 17th Annual Black History Celebration. 02.26.19. 6 - 8 PM. CVCC Tarlton Complex. Better Together. Heritage. Pride. Culture."
Join us for the 17th Annual 2019 Black History Celebration! Admission is free. The keynote speaker will be Ron M. Carson, Lead Pastor of Covenant Christian Church and Coordinator of Minority Males on the Move and Students Striving for Success at CVCC.
Date: February 26, 2019
Time: 6:00 PM - 8:00 PM
Location: CVCC Tarlton Complex
Partners
Upcoming Experiences
Selma, Alabama
Be part of a life-changing experience February 27 - March 3, 2019.
Catawba Valley Community College and partners are affording students educational experiences that includes trips to historical sites and museums. Students participate in historical events and have opportunities to meet and dialogue with key people from the Civil Rights movement. 
Selma Educational Experiences
Museums and Historical Sites:
Bridge Crossing Re-Enactment over Edmund Pettus Bridge – Bloody Sunday 1972
Birmingham Civil Rights Institute
Sixteen Street Baptist Church
National Voting Rights Institute and Museum
Southern Poverty Law Center and Memorial
Rosa Parks Museum (Troy University)
Tuskegee Airmen National Historical Site
Tuskegee History Museum – Multicultural Center
Civil Rights Interpretive Center
CVCC would like to recognize Lenoir-Rhyne University for their continued partnership.
Contact Information
For more information, please contact:
Erika Tiscareno Velasco
Administrative Assistant
evelasco@cvcc.edu
(828) 327-7000 ext. 4578
If you have a disability and need accommodations, please contact the Counselor/Students with Disabilities Program at least 72 hours in advance at (828) 327-7000, ext. 4222 or accommodations@cvcc.edu
Visit us on Facebook!