Shannon Weaver of Hickory
2007 St. Stephens High School
2010 Elementary Education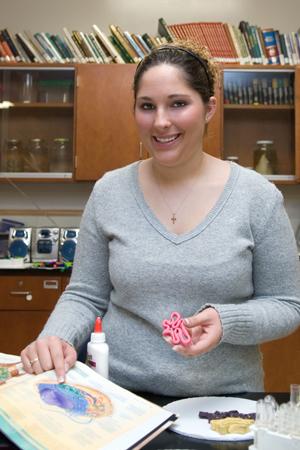 "I wasn't ready to leave home, and I needed to test the water a little bit in college and save money for my parents.
When I was in high school, I was involved in a lot of things. I played volleyball, basketball and soccer. I was in the Athletic Club, the Art Club and the FOG (Fellowship of God) Club. But, when I graduated, I knew I wasn't ready to leave home yet for a four-year school. I wasn't mentally ready to leave my family so I came to CVCC. My brother came here for a while too.
I knew I wanted to be a teacher, so my plan is to finish my first two years at CVCC and then transfer to the Appalachian State University Center at Caldwell Community College and Technical Institute. I use a check sheet from the ASU Coordinator for Recruitment and Advising to help me plan my schedule here at CVCC. It's a real competitive program.
I love CVCC! I love the location, the teachers AND I love saving money on tuition. I am not spending near as much money as my friends that went to a four-year school. And, we have the exact same classes, the same books, everything! I am not missing anything by not going off to college.
One of the things I love the most is all the different types of people and all the different age groups in my classes. It's really been interesting, and I know I would not have gotten that experience at a large university.
I really recommend going to CVCC for the first two years. I think some 18-year-olds do succeed going off to a big school right away but others are not really mature enough to leave home. I know I wasn't. CVCC was definitely the right choice for me. I needed to test the water a little bit in college and save money for my parents.
I have recommended CVCC to a lot of my friends. My boyfriend is a year younger than me so a lot of our friends are just thinking about college. Quite a few have came to CVCC because I have recommended it.
I am going to school full time, I work two part-time jobs, and I'm even taking some of my classes by distance education. I am CVCC.