Justin Fulbright of Newton ( Fairfax, Virginia)
2003 Newton-Conover High School
2008 CVCC Turfgrass Management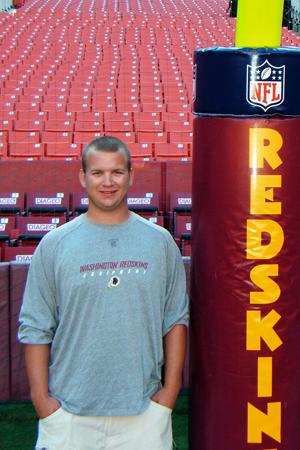 I went to UNC-Charlotte right after high school. I left after one year because I just was not ready for a four-year school.
I didn't know what I wanted to do so I worked for a year with some landscape companies. I really liked it so I starting thinking about landscaping as a career. I had heard about the Turfgrass Management program at CVCC, and through my job I had met some people that had completed the program and really recommended it. So, I enrolled.
The CVCC program taught me the basics of the turf industry.  The best things were the hands-on learning, in the field training, and the relationships I built with the people I worked with. The instructors were great, well-educated and have good contacts in the area. I developed some great connections and references for future jobs!
I had to do an internship to graduate, so I did some research. I got the phone number for the Washington Redskins' stadium and decided to give them a call. I talked to the grounds director at their practice facility in Ashburn, Virginia, and he agreed for me to do an internship with them. So, I moved up there and did my internship.
After I finished my internship and graduated, the Redskins didn't have any full-time openings, but they did have some part-time jobs. So, now I work part-time for the Redskins! On the weekends they have home games at the stadium in Landover, Maryland. I help prepare the fields and sidelines for the games. During the game, I raise the nets for field goals and help keep the field in shape. 
I also have a full-time job with Game Day Incorporated in Virginia. I do sports field maintenance for the main field at Georgetown University, George Mason University, the RFK soccer stadium and more.
I really love what I do now, and I am hoping to get on full time with the NFL.
The CVCC Turfgrass Management program absolutely prepared me for the career I have now. I am CVCC.