Christopher "Tuffer" Howell, of Alexander County
'07 Alexander Central High School
Owner, Carolina Carriage Company
'07 CVCC Alexander County Superintendents Scholarship
'09 CVCC Pre Major AA Middle Grades Education
Transfer to ASU in January 2010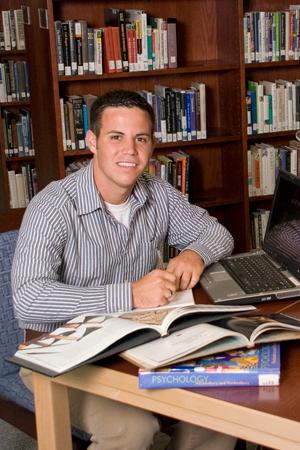 Even if I had not received a scholarship, I was planning on coming to CVCC for my first two years of college anyway. I plan to transfer to Appalachian State University and study to become a middle school language arts and social studies teacher, and hopefully be a principal one day. When I graduated from Alexander Central High School, I was lucky enough to receive the very first CVCC Superintendent's Scholarship for Alexander County.  I wish I could finish all four years here at CVCC. It's convenient and close and a great education. Why spend all that money, pay triple or quadruple the price for a four-year-school, when you can get the same education for the first two years for less and then transfer?  My sister did it. She is at ASU now.  This way, I will have no school loans when I graduate. Running my own business, a horse and carriage company (Carolina Carriage Company), takes a lot of time, so I use the Learning Assistance Center at CVCC for help in my studies all the time; especially for math. I am not good in math at all and the tutors there help me a lot.   I recommend CVCC to other people all the time. I am CVCC.