Emergency Medical Technician (EMT)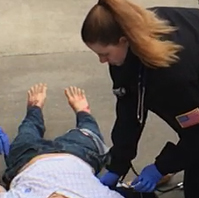 The EMT course provides an initial education in the world of emergency medical science. Introductory and general information in a variety of medical fields and how to perform the most basic, but critical, life-saving skills will be studied. The EMT course is a 228-hour course. The course includes a classroom portion (didactic) that presents necessary information about medical problems and treatments, a lab portion (psychomotor) where hands-on skills are practiced, and shifts on an ambulance for a field observation lab. Upon successful completion of this course, students will be eligible to test at the national and state level to earn the EMT certification, which allows students to operate and work as an EMT in such places as on an ambulance, emergency room, urgent care, or other places.
Pre-requisites
Students must:
Be at least 17 years of age on or before the course end date. Parental agreement is needed if younger than 18 years old at time of registration.
Pass a reading exam or prove reading ability at minimum of 11th grade level.
Be on CCP Pathway or have written high school principle agreement, if a high school student.
Course Offerings
CVCC offers two forms of EMT classes. Curriculum (CU) courses are typically day classes, and upon completion of the course, students are awarded college credit and the chance to test for the state and/or national certification. The Continuing Education course will not be awarded any college credit. However, registered students who are in good standing with an appropriate fire, rescue, or EMS agency are eligible for a fee-waiver and are eligible to take the state or national certification test. Both classes will be taught primarily in a seated classroom with some online work required.
Program Cost
Price varies greatly depending on type of class and current tuition rates. For the most up-to-date pricing, please contact the EMS/EMT program by email at ems@cvcc.edu.
Upcoming Classes
» Public Services Training Calendar
Class Schedule

| Class | Dates | Days | Time | Location |
| --- | --- | --- | --- | --- |
| Evening Continuing Education Class | TBA |   |   |   |
| High-Intensity Continuing Education Class | TBA |   |   |   |
Note: There are also required Saturday classes that will be required. These dates are provided on the first day of class. Email for questions regarding the Saturday classes.
Contact Information
To start the registration process for any class or for any questions or advising regarding EMT classes, email the EMT program at ems@cvcc.edu.
For any other assistance or questions, please contact:
Mandy Reavis
Administrative Assistant
Monday-Thursday
9:00 AM-1:00 PM
(828) 327-7000, ext. 4841
mreavis869@cvcc.edu