Advanced Emergency Medical Technician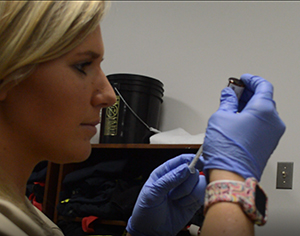 With the Advanced Emergency Medical Technician (AEMT) course students begin their journey into advanced level care by learning procedures and interventions that require much more extensive training. The knowledge gained through the EMT certification is expanded upon here. Through clinical time in the emergency room and on ambulance services, students will hone these newly acquired skills in order to enter the workforce as a competent and proficient advanced healthcare provider. The AEMT class runs 256 hours, which includes class time (didactic), lab time (psychomotor), and a separate clinical class where students spend time in the hospital and on the ambulances.
Pre-requisites
Students should have completed:
Current Emergency Medical Technician Certification
High School Diploma or equivalent
Proof or placement test demonstrating ability to perform post-secondary level math and reading.
Course Offerings
CVCC offers a path to earn the AEMT certificate through the EMS Health Science: Therapeutic and Diagnostic Service diploma program or through a Continuing Education class. The AEMT class is unique in that students must take the AEMT Clinical Practicum course at the same time. This clinical class has no set class times but requires students to go into the hospital and on the ambulance to complete the course. To discuss the opportunities and how to start, contact the EMS department at CVCC. Students will be guided through the courses and registration process to achieve the best possible path of success.
Upcoming Advanced EMT Course
AEMT Class
Class
Dates
Days
Time
Location
Evening Continuing Education Class
Orientation 8/7 1-4pm 
Aug 8-Dec 9
Mon,Thu
6:00 PM-10:00 PM
East Campus
Note: There are also required Saturday classes that will be held from 9:00 AM-4:00 PM. These dates will be provided on the first day of class. This course also requires students to spend a total time of 96 hours split between the emergency room and on an ambulance. Both day and night shifts are available
Contact Information
For any questions or advising, email the EMT program at ems@cvcc.edu.
Mandy Reavis
Administrative Assistant
Monday-Thursday
9:00 AM-1:00 PM
(828) 327-7000, ext. 4841
mreavis869@cvcc.edu