» 2008-2009 CVCC Catalog (PDF format.) 
If you do not already have Acrobat Reader then you will need to download the free Acrobat Reader to view the 2008-2009 CVCC Catalog.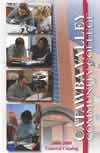 Helpful Hints:
You may select individual quick links that will take you to the page of the item selected from the Bookmark selections, Table of Contents, or the Index listing. Just click on the item listed that you want to see and you will jump directly to that page.
Searching the 2008-2009 CVCC Catalog for words or phrases:       
       
       

To search for a word or phrase within the catalog file, select the 'Find' icon or feature within the Acrobat Reader toolbar that looks like binoculars.
       
       

To continue searching for a word or phrase, click the 'Find Again' icon next to it.                 For easier access when using a slower internet connection, you may click on one of the following links to view individual sections of the 2008-2009 CVCC General Catalog: