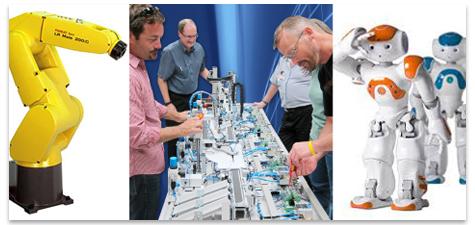 Apprenticeship Catawba is an exciting new partnership between local advanced manufacturers, Catawba and Alexander County Schools, and Catawba Valley Community College.
Did you know jobs in Mechatronics and Computer Integrated Machining are in demand?
Would you:
Enjoy a career working with robots, computer aided design or electronics?
Want an opportunity for a college scholarship and NO student loans?
Want to take a college classes your junior and senior years in high school at no cost to you?
Want a career that pays well?
If you answered yes to any of these questions, visit the Apprenticeship Catawba Information page or call us at (828) 327-7000, ext. 4294 for more information.
Partners
Qualification:
To qualify for the program, one must be a high school junior with a 3.0 minimum grade point average, have good attendance and pass placement tests. Students must also be recommended by a high school guidance counselor or Career and Technical Education advisor.
Want to learn more about apprenticeship opportunities? Visit the Apprenticeship Catawba Information page.
Salary Comparison:
National Minimum Wage for US: $7.25/hr and $15,080/year
Minimum Wage in NC: $7.25/hr and $15,080/year
NC School Teacher with Bachelors Degree $35,000/year
Police Officer $36,500
Apprenticeship Graduate $34,000
Experienced:
Industrial Maintenance Mechanic $43,000
Experienced Tool and Die Maker $46,000
Controls Technician $53,000
Mechatronics Technician $62,000
To view these (PDF) documents you may need to download Free Adobe reader at www.adobe.com.