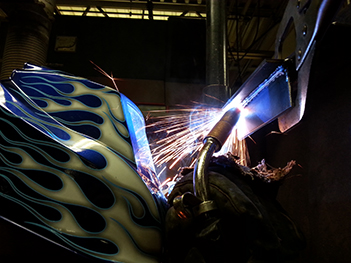 The Welding Technology curriculum provides students with a sound understanding of the science, technology, and applications essential for successful employment in the welding and metal industry.
Instruction includes consumable and non-consumable electrode welding and cutting processes. Courses in math, blueprint reading, metallurgy, welding inspection, and destructive and non-destructive testing provides the student with industry-standard skills developed through classroom training and practical application.

Successful graduates of the Welding Technology curriculum may be employed as entry-level technicians in welding and metalworking industries. Career opportunities exist in construction, manufacturing, fabrication, sales, quality control, supervision, and welding-related self-employment.
Courses required to meet graduation requirements in this curriculum are offered during day and evening hours at our Main Campus in Hickory, NC and at the Alexander Applied Technologies Building in Taylorsville, NC.
Contact
Mark Sigmon
Program Director
(828) 327-7000, ext. 4358
msigmon@cvcc.edu

Mary Pugh
Administrative Assistant
(828) 327-7000, ext. 4595
mpugh@cvcc.edu
Office VSL 205C
To view these (PDF) documents you may need to download Free Adobe reader at www.adobe.com.