HandsOnHistory
Hands On History provides students the opportunity to travel to historical places as a part of select classes.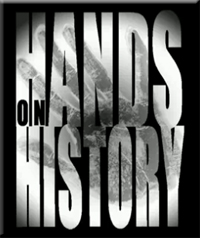 Catawba Valley Community College provides an innovative approach to a traditional curriculum subject. Since 2004, students enrolled in selected history courses have gained a first-hand perspective on the past through CVCC's HandsOnHistory initiative. This program plunges individuals into a deeper consideration of historical events and issues, allowing them to interpret the past in vital and stimulating ways. Specially crafted course structures enrich student learning and strengthen critical thinking through the exploration of history. As a result, participants gain a valuable perspective on how the complex dilemmas that confronted previous generations are constructed and presented. The HandsOnHistory program fosters experiential learning, helping students examine where history happened, as well as opportunities to add their own voices to the discipline's discourse.
Being there revolutionizes student insight, intensifying their understanding and interest. Research findings reveal enthusiasm for HandsOnHistory courses as many appreciate the benefit of an opportunity they did not think possible at the community college level. "Tremendous" and "enlightening" are recurring comments from student evaluations. With alumni who have gone on to successful history undergraduate and graduate careers at schools throughout the area, the program continues to look for new ways to spark interest that begins a lifelong passion. That's the goal of HandsOnHistory, to create interaction for students with the many events, people, and issues of the past in a meaningful and unforgettable way.
Examples of experiences by students as part of HandsOnHistory:
Gettysburg and Antietam Battlefield – American Civil War course
Student produced documentaries – Local History and Genealogy course
European travel to England, France, Belgium and Germany – World War II course
"Bloody Sunday" commemoration in Selma, Alabama – African American History course
Independence Hall and Revolutionary War Battlefields – American Revolution course
Mesa Verde, Chaco Canyon, Aztec Ruins – Native American History
USS North Carolina, Fort Fisher, Outer Banks – North Carolina History course
Research The Miracle
In 1944, an epidemic hit the Catawba Valley. Some people called the disease infantile paralysis because it attacked children predominately. More commonly it was called polio and it seemed to come every summer to some city or town in the United States. When Hickory's turn came, its population had already been thinned by the Second World War, which made the crisis more severe. By early June, the disease and rumors spread. Hospitals from Charlotte to Asheville filled quickly.
» Read More about "Research The Miracle"
Contact Information
Richard Eller
(828) 327-7000, ext. 4620
reller@cvcc.edu