Everyday Entrepreneur Venture Fund
Catawba Valley Community College Entrepreneur Funding.
Do you want to Start a Business?  

Apply to the CVCC Everyday Entrepreneur Venture Fund for a Start-Up Grant!

Welcome to CVCC's Everyday Entrepreneur Venture Fund (EEVF). The EEVF supports CVCC students and recent graduates by helping them to start their own business with grants of up to $10,000!  We'll help you develop your business plan, and you will have a chance to pitch to a funding committee for a start-up grant.
Eligibility:   
You must be a current CVCC student with at least 24 credit hours or someone who has graduated from CVCC within the last 24 months. 
You need a business idea, which is possible to start within 20 weeks, or an existing business in its early stages.  
The current application period is closed. EEVF applications will be accepted again in Spring 2021.
Requirements: 
You will participate in a free Ice House Entrepreneurship cohort, a nationally recognized program to assist you in assessing the viability of your business idea. You will be part of a cohort which will meet online once a week to build and test your plan.
Applicants can join Startup Space, a virtual community to network and to connect to resources.
You will work with CVCC EEVF advisors to create a:
Lean Business Plan
Financial Plan, including projected Profit and Loss and Cash Flow Statements.  
Funding Request, explaining how much money is being requested and how it will be used to further the business idea or business. 
With the assistance of our EEVF advisors, applicants will use this information to create a presentation for our EEVF Funding Committee, which will be responsible for determining grant amounts for applicants.
Important Dates:
The EEVF will accept applications in Spring 2021.
Need More Information?
Contact CVCC Small Business Center Director Jeff Neuville or CVCC Director of Accounting and Business Administration Christy Lefevers for more information.
Jeff Neuville
jneuville@cvcc.edu
(828) 327-7000, ext. 4102

Christy Lefevers
clefevers@cvcc.edu
(828) 327-7000, ext. 4308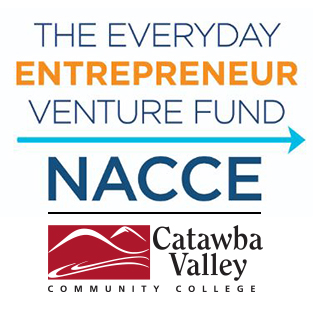 The Everyday Entrepreneur Venture Fund is made possible through a partnership with the National Association for Community College Entrepreneurship (NACCE). 

Learn more about the Everyday Entrepreneur Venture Fund.