Bloodborne Pathogens: Emergencies & Vaccinations

 EMERGENCY PROCEDURES for SPILLS AND/OR EXPOSURE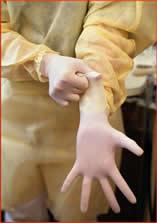 In an emergency situation involving blood or potentially infectious materials, you should always use Universal Precautions and try to minimize your exposure by wearing gloves, splash goggles, masks, gowns, and other barrier devices.
In accordance with the practice of Universal Precautions, all spills of blood or body fluids must be cleaned with a freshly prepared 1:10 solution of sodium hypochlorite (household bleach). If bleach is not available, an approved hospital disinfectant may be used. Disinfectants shall be EPA registered for hospital use, and shall be tuberculocidal. They must also kill HIV and HBV.
Catawba Valley Community College will use specified employees of the janitorial staff for responding to body fluid spills. At the occurrence of a body fluid spill,  notify the Campus Safety and Security Office by calling extension 711 from phones on the Main Campus and East Campus phone network, by calling 828-327-7000 extension 711 from other phones including those at the CVCC Alexander Center for Education and the Newton Center.  Emergencies at the CVCC Alexander Center for Education should also be reported to the Taylorsville Police Department at 828-632-2218.
If you are exposed, however, you should:
Wash the exposed area thoroughly with soap and running water. Use non-abrasive, antibacterial soap if possible.
If blood is splashed in the eye or mucous membrane, flush the affected area with running water for at least 15 minutes.
REPORTING EXPOSURE INCIDENTS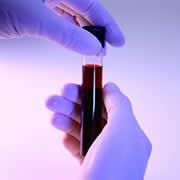 Any employee injury or accident with a sharp instrument (needle stick, scalpels, etc.) or with a splash of blood, body fluid, or body substance into a mucous membrane, lining of the eye, nose or mouth, or exposed skin area must be reported to the Catawba Valley Community College Director of Human Resources at extension 4278.
The source from which the potential contamination has occurred will be informed and tested for HIV and HBV infections, AFTER THE CONSENT OF THE SOURCE IS OBTAINED.
If the source refuses consent for testing OR if the source grants consent and tests positive, the employee will then be evaluated clinically as soon as possible.
HIV TESTING
The evaluation will include HIV antibody testing.
The employee will be advised to report and seek medical evaluation for any illness accompanied by a fever that occurs within 12 weeks after exposure.
HIV serum tested negative employees shall be retested 6 weeks after exposure and on a periodic basis thereafter (12 weeks and 6 months after exposure).
Catawba Valley Community College will provide the following information to the evaluating physician:
A copy of 29 CFR 1910.1030
A description of the affected employee's duties as they relate to the employee's occupational exposure
Catawba Valley Community College will also obtain and provide the employee with a copy of the physicians written opinion within 15 days after completion of the evaluation. The opinion is to include:
A statement that the employee has been informed of the results of the medical evaluation and that the employee has been told of any medical conditions resulting from exposure to blood or other potentially infectious materials which require further evaluation or treatment.
HEPATITIS B
Follow-up procedures will also be taken for employees exposed or potentially exposed to HBV. The types of procedures depend on:
The immunization status of the worker (whether HBV vaccine has been received and antibody response is adequate).
The HBV/negative or positive status of the consenting source patient.
The physicians recommended limitations upon the employees ability to receive hepatitis B vaccination.
Specific findings or diagnosis which are related to the employee's ability to receive HBV vaccination. Any other findings are to be kept confidential.
Catawba Valley Community College will provide hepatitis B vaccinations in amounts and at times prescribed by standard medical practices free of charge to all employees who have occupational exposure on the average of one or more times per month and post-exposure follow-up for all employees with an occupational exposure incident (29 CFR 1910.1030 Section (5)(f)(1).)If the employee refuses to submit to vaccination or any of the above post-exposure procedures, no adverse action will be taken.
All exposure incidents as described above will be recorded and placed in a confidential medical file, separate from the employee's other personnel records. All records and documentation regarding an exposure incident shall be maintained by Catawba Valley Community College for the length of the employee's employment at CVCC plus thirty (30) years. Catawba Valley Community College will make this record available to the employee or his/her designated representative at any time during that period.
MORE ON VACCINATIONS
Although your employer must offer the vaccine to you, you do not have to accept that offer. You may opt to decline the vaccination series, in which case you will be asked to sign a declination form. Even if you decline the initial offer, you may choose to receive the series at anytime during your employment thereafter, for example, if you are exposed on the job at a later date.
As stated in the Emergency Procedures section, if you are exposed to blood or potentially infectious materials on the job, you may request a Hepatitis B vaccination at that time. If the vaccine is administered immediately after exposure it is extremely effective at preventing the disease.
The Hepatitis B vaccination is given in a series of three shots. The second shot is given one month after the first, and the third shot follows five months after the second. This series gradually builds up the body's immunity to the Hepatitis B virus.
The vaccine itself is made from yeast cultures; there is no danger of contracting the disease from getting the shots, and, once vaccinated, a person does not need to receive the series again. There are booster shots available, however, and in some instances these may be recommended (for example, if there is an outbreak of Hepatitis B at a particular location).