Certified Nurse Assistant I
Next class: September 9-December 18, 2019
Upon successful completion, student will be eligible to apply for the state exam to be listed on the DHSR CNA I Registry. Successful completion of Pathways to Healthcare and pre-test or documentation of placement into English 111 or completion of Reading 090 or DRE 98 is required for entry of the CNA Program.
Required for Registration
Current US government issued, signature bearing photo ID, and GED or high school diploma. Current high school seniors may register with documentation from the high school verifying senior status. Current high school seniors are exempt from the prerequisites. All verifying documents must be submitted to Donna Davis on the East Campus at least prior to class start date.
Textbook, workbook and manual required.
All enrollments must be pre-registered and pre-paid.
Costs include a $180 registration fee, $15.75 insurance fee, $26 supply fee, and CPR $8.00
This must be completed prior to registering for CNA classes. Click the "Register" link, enter "Nurse Aide" in the Search for (Key Word) field to view all CNA classes available.
CVCC Alexander Applied Technologies Center
The Taylorsville Times reported on December 27, 2017 "the CVCC Alexander Applied Technologies Center is home to the college's Alexander Furniture Academy instruction area and Furniture Showroom, as well as the Welding Program and Alexander Early College. It is located at 231 Industrial Blvd in Taylorsville."
CVCC Alexander Furniture Academy
Interested in learning a new skill like sewing and upholstery? The Applied Technology Center is now offering sewing and upholstery through our new Alexander Furniture Academy.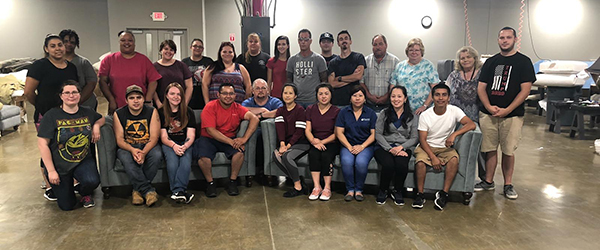 2019 Fall Semester
Next Class: June 19-December 12
Available Spaces Per Semester
15 Upholstery Craftsman
15 Sewing Operators
Cost
$250.00 per semester plus required tools
Scholarships Available
Potential Salary
$30,000-$60,000 per year
Contacts
Lori Price, Director
(828) 327-7000, ext. 4284
lprice@cvcc.edu
Eunice Mays, Coordinator
(828) 632-8221, ext. 331
emays164@cvcc.edu
Welding Degree and Upholstery and Sewing Continuing Education in Alexander County
If you are interested in a CVCC Welding degree or Upholstery and Sewing Continuing Education in Alexander County, please let us know to be added to the Alexander County degree request list. Contact Lori Price, Program Director, at (828) 327-7000, ext. 4284 or Eunice Mays, Program Coordinator, at (828) 632-8221, ext. 331.
Upcoming Welding Classes
WLD-110 Cutting Processes and WLD-112 Basic Welding Processes classes begin May 29 and end July 22. These classes will be Monday and Wednesday evenings.
Need help on how to find a Job?
Are you having trouble finding a job because you cannot fill out the online applications? Do you need help preparing a resume or searching for work on the Internet? If so, come to our Employability Lab on Tuesdays or Thursdays from 8:30 AM-12:30 PM. This is a no cost class for most students that offers you the flexibility of allowing you to attend any time during those hours. This class also allows students to practice and prepare for the Career Readiness Certification that many employers require prior to employment.
 
Tired of Looking for a Job?
Workforce Investment Act (WIA) and CVCC Staff can help.
Meet with a success Coach to determine your immediate needs
Help you register in the new NCWorks.gov job getting website
Determine if you are eligible for WIA funding to pay for training to up-fit your skill set
Call or stop by! (828) 632-8221, ext. 0
CVCC Alexander Campus
345 Industrial Blvd.
Taylorsville, NC 28681
NCWorks Connecting Talent to Jobs
Catawba Valley Community College"

NCWorks
Megan Vann-Monday and Thursday
Jessica Miller-Tuesday and Wednesday
(828) 632-8221, ext. 314
ICare
Cindy Bacon
(828) 632-8221, ext. 305
Tuesday, Thursday, and Friday: 8:00 AM-3:00 PM